MEET MITCH. WHAT LIFE IS LIKE IN THE FAST-PACED WORLD OF THE WOODCHUCK USA WAREHOUSE.
This holiday season, Mitch will ship out more product than the previous three quarters combined!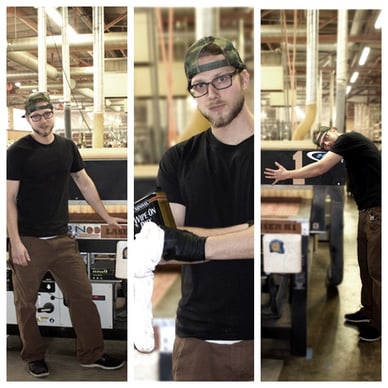 At WOODCHUCK USA, one of our core values is beast mode. It means we make things happen. We are dreamers, doers and strategic thinkers. We are the people changing the world EVERY day. We are constantly driven to learn and improve and are always elevating our mindset. We have a focused insanity on our goals. We are beast mode. And we think Mitch exemplifies beast mode! We sat down with Mitch to see what life was like in the fast paced world of managing the WOODCHUCK USA warehouse!
What's the first and last thing you do at work each day?

First thing I do each morning is inspect each lasers utilization and performance. Last thing I do each day is drive packages to UPS to ensure priority packages are delivered on time.
What excites you the most about your job?

Great customer satisfaction and great customer feedback really excites me! Also making an impact on the earth through our 'Buy One. Plant One®' program always excites me.
What is something quirky about you?

I never finish the last bite of my food or last sip of anything I drink.
What sort of quality standards are in place with our products?

We have 3 quality checkpoints during production. Quality standards are upheld by a talented and well experienced operations team who collaborate to ensure every product is as premium as possible.
What do you spend most of your day doing?

I spend most of my day facilitating our laser schedule, scheduling jobs, designing jobs, running jobs, organizing jobs, and maintaining lasers. Optimizing our lasers is key to lean production.
Why do you think our product is more premium?

We absolutely source the best material. We have an extremely close relationship with our sustainable wood supplier enabling us to customize our raw materials to exceed the expectations of our customers.