Woodchuck USA's mission is to bring nature back to people's lives. We've put together a few of our favorite twin-cities locations that are easy enough to get to during all the festivities. Getting sick of all the crowds? Want to evade all the traffic in general? We've got you covered.
The Obvious
Minnehaha Falls
4801 South Minnehaha Drive, Minneapolis MN 55417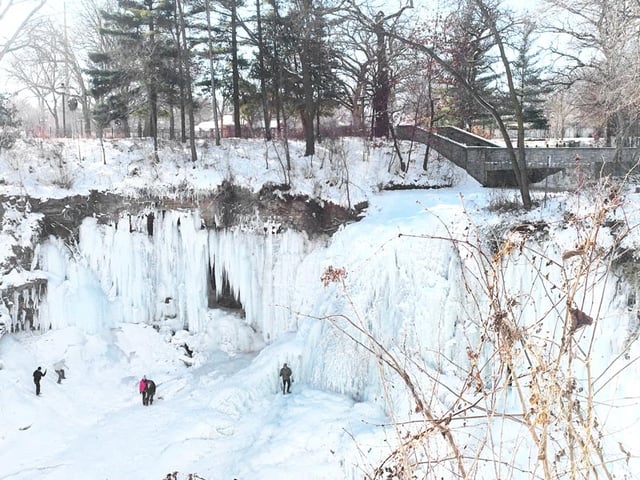 Pro-tip - take the light rail (just a short walk to the falls)
Cost - free
Best photo opp - the bridge
Although most people think of going and seeing this just during the day, visiting at night is kickass too. Frozen Minnehaha falls is one of Minnesota's most unique waterfalls. Experiencing the frozen falls up close is invigorating. Explore at your own risk. Bright blue colors are mesmerizing and rumor has it if you can get behind the falls - you might experience a rainbow of colors.
The Not So Obvious
Lebanon Hills
Where to park - free parking is available at the West Trailhead entrance on Johnny Cake Ridge Road
Best photo opp - pushing someone around on a kicksled
Pro-tip - free s'mores the first Friday of every month
Try the new rave kicksledding at Lebanon Hills, a sprawling park just off the beaten path of the city. Or try your hand at sledding, tubing or a traditional toboggan.
The Ultimate Urban Adventure
Theodore Wirth Regional Park
Where to park - walk or bike
Cost - free
Trail routes under construction so go to the Chalet
Pro-tip - evade traffic - walk there
Best photo opp - the city skyline on your walk back
Nestled right outside the heart of downtown and the largest park in Minneapolis- hit up Theodore Wirth Regional Park for adventures that will blow your mind. Cross-country skiing and snowshoeing is a great way to take in nature. Topping our list of favorites (for the ultimate urban adventure) is that fat tire mountain biking. Get off the beaten path and bike like a maniac!
BTW - we make custom wood products that make your adventure. Woodchuck plants a tree for EVERY product purchased. You'll get a "BUY ONE. PLANT ONE." card that includes the coordinates of where your tree is planted and a briefing of our work and partnership with that area. We planted over 1 Million trees on 6 different continents in the past two years and we are just getting started. Follow and support our journey on @woodchuckusa as we help reforest our planet.