Woodchuck was founded on a mission to put nature back into people's lives. Our hope is that when you pick up your journal to jot down notes or crack open a beer with one of our bottle openers, you feel a little bit more connected to our planet. We strive to create products as cool as the stories that inspire us and the people who represent our philosophy. To relaunch our blog right before Valentine's Day, I wanted to spotlight a duo who inspires me. You may recognize Courtney as our Wholesale Catalog cover girl, but she and her boyfriend Jaden spend most of their time on the other side of the camera. Together, they run a traveling photography business that revolves around getting couples out into nature.
Over a year ago, they were at their university library in Minnesota when the idea hit them to dedicate an Instagram account to their adventures and photography. Their first documented expedition took place on Mount Sanitas in Boulder, Colorado. At the time, they had no idea that they'd soon pull the trigger to pack up their lives in Minnesota and move 25 miles from where they were hiking.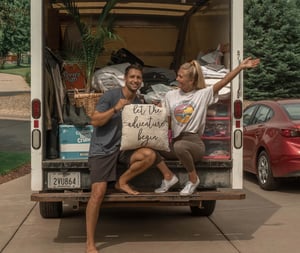 Their business took off last fall through an Instagram message on their travel account asking if they'd shoot a wedding in Wisconsin. That experience ignited a passion for capturing moments for other couples. While Jaden favors working with brands and telling companies' stories through his visual creativity, Courtney thrives as hype-woman during shoots and getting clients in touch with their outdoorsy side. She helps them love the way they look and bring their ideas to life.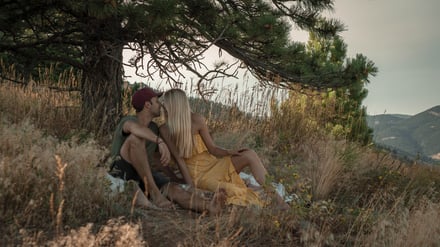 Behind the business, however, is a relationship that thrives on wanderlust and spontaneity. It began over four years ago in a place built for romance; a place Shakespeare wishes he could have dreamt up: Facebook messenger. Jaden grew up in a small town on Vancouver Island with the mountains in his backyard, so nature has always played a massive role in his life. Courtney, raised on the lakes of Minnesota, developed an appreciation for the outdoors through her family traditions of fishing and camping. The two of them decompress together by hiking and silently taking in what nature has to offer.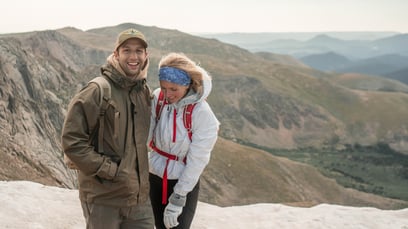 For Thanksgiving, while most people (me) shoveled their bodies (my body) full of carbohydrates and laid on the living room floor, Courtney and Jaden used their time off from work to backpack Utah. For her first Thanksgiving away from family, they endured an unexpected snowstorm while underdressed, nearly froze, but would still do it all over again in a heartbeat. Their Christmases in Vancouver are spent surfing on the coast one day and snowshoeing in the mountains less than twenty four hours later. Between the casual moose sightings in their new home state of Colorado and picnics on the shores of Lake Superior, to say these two have put a spin on date night would be an understatement. When I asked them where they see their lives in five years, their answer was simple: in a van, traveling state to state, creating art with the help of happy couples and beautiful landscapes.
Their favorite Woodchuck USA projects:
Jaden: Wood World Maps & Tech cases
Courtney: Adventure journal – perfect for guided note taking and sturdy enough to toss in a bag without creasing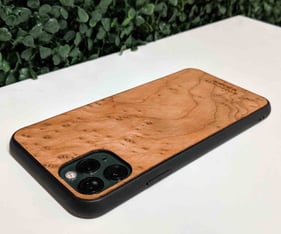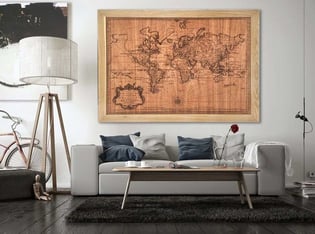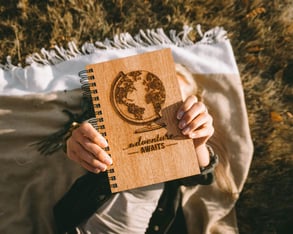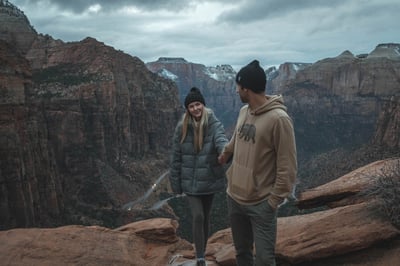 Follow them on Instagram:
@WKNDWANDERERS
Jaden: @shmize_
Courtney: @stuffcourtdoes
Visit their site:
www.WKNDWanderers.com
Use discount code "WKNDWANDERER" now through Valentine's Day to receive free shipping on your order!